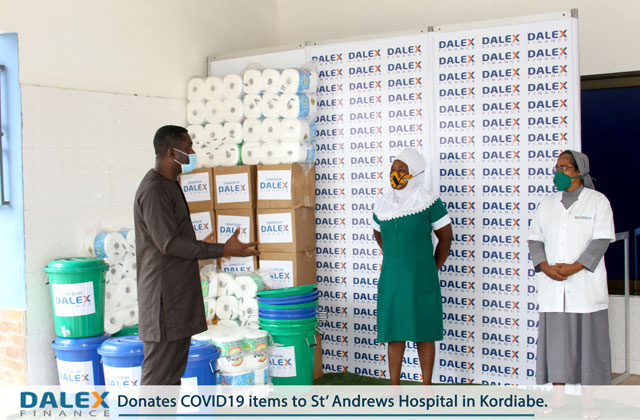 Dalex Finance donated medical supplies worth GHS 20,000 to the St. Andrews Catholic Hospital, at Kordiabe on Saturday, 20th June 2020 to help fight the Coronavirus pandemic.
The Head of Support Services of Dalex Finance, Mr. Eric Asante, presented the items to the hospital. He was supported by the Corporate Communications Coordinator, Mr. Yaw Acheampong Adjei and Mr. Kofi Arkoh Ameyaw.
Sr. Viji Nedumattathil of the Holy Family Convent Sisters who oversees the hospital, received the items in the presence of the medical staff and the delegation from Dalex Finance.
Speaking at the occasion, Mr. Eric Asante explained that, in the wake of the Covid-19 pandemic, Dalex Finance is committed to the safety and well-being of all Ghanaians and will continue to support government's efforts in the fight against the virus.
He added that, "frontline workers face an arduous task of managing already existing health cases as well as the Covid-19 pandemic and therefore must be protected at all cost". He advised all Ghanaians to continue adhering to the World Health Organization's (W.H.O) directives especially social distancing protocols to stop the spread of the virus. "The world is at war, and we must do everything we can to win" he said.
The items donated included, boxes of hand sanitizers, packs of face masks and hand gloves, Veronica buckets, hand tissues, gallons of bleach and methylated spirit.
Dalex Finance has kept a long-standing relationship with the St. Andrews hospital. In November 2018, the company raised GHS 300,000 to aid the construction of a 30-bed ward, a theatre and ancillary units.
As part of efforts to win the fight against COVID19, Dalex Finance is giving out loans at 0% interest to vulnerable young Ghanaians.
Dalex Finance is a wholly Ghanaian owned and operated Specialized Deposit-taking Institution (SDI) licensed by the Bank of Ghana (BoG). Dalex Finance has been in operation in Ghana since 2006.